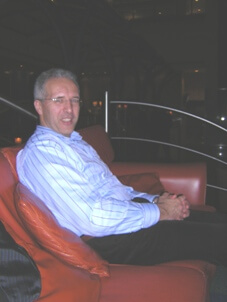 Een interview met de CEO van Swiss Life Belgium, afgenomen op het IQPC Lean Six Sigma for Financial Services Summit in het Hilton Hotel te Frankfurt.
Swiss Life
was hierbij vertegenwoordigd met een presentatie over de eerste fase van de implementatie Six Sigma binnen Swiss Life. Swiss Life heeft net de implementatie achter de rug, en zijn in het traject beland waarbij Six Sigma operationeel wordt.  Andere dienstverleners uit dezelfde branche keken toe in hoeverre zij dit ook voor hun eigen business kunnen implementeren.
Six Sigma en Innovatie in de dienstverlening – Swiss Life Belgium
Interview met Johan Bertrands – CEO & Six Sigma Black Belt.
Who is Johan Bertrands?
Actuary from education, Johan always had his interest more on the managing side of the job. Started at Generali and eventually at Swiss Life Belgium. During the years always has been in the same business, but changed on several aspects. Switched to the services themselves, the people, processes and leading of the operations. Current state CEO of Swiss Life Belgium.
What is your definition of Six Sigma? "For me, Six Sigma is a tool like many others. Which helps you to have a methodology in house in order to tackle process improvement. The objective of working on your processes and the results you have which you get out of it, is for me the number one. And second Six Sigma is a tool which you can use with other tools, whether it's Lean or whatsoever. The primary objective for me is the improvement too, and Six Sigma is just one way of looking. Advantage is some kind of a logic order, and the way you look at your processes, that's the biggest advantage so you can sell it in your organization."
Success story so far for Swiss Life "We are at the start, we are one year more or less on our journey. If you can talk about success, it is maybe the way the we put Six Sigma in the structure of the organization. After training have the management team completely involved on the process, because there are any training sessions too. As well as the Black Belts who are the key, high potential people in the organization, you could improve the training sessions. I think at this point everything is ready that we can really make it to our profit after one year of training. Having experience with it and a good feeling."
"Introduce a change, making people aware"
Clear results "Results are more or less linked the way we build up the training, in the sense that we had pair of training sessions with 6 projects, so the project has worked out well or definitely seemed to be not the right choice so we can conduct both similarly, so now having this experience we really approach the projects who have much more sense in the way we can group projects."
What has Six Sigma done for you personally? "Not really something for my personal life, it interests me as a methodology, I am quite organized by nature."
What is your definition of innovation?
"Innovation? Two things, the strict view is really do new things which are not yet done in your line of business or what the competition is doing. That can be based on technology for example: just anything that can be different and has not yet been done. On the other hand you have a much more reduced definition of innovation in the sense that where you innovate, whether when it's a product or whether the way you look at processes or the pricing. It is much more the tangible part of innovation and the way you conduct your business. I think of both ways to be looking at it." "There is another way which does not necessary has to be a direct link to your business, but it might also something be that helps you to conduct your business. Business wise in insurance companies, there is as much interest of innovating products, processes or even on human resource. Definitely an insurance company is, cause you don't make physical products and the only thing we can be different from competition is the way we work together as people that can be innovative on that level."
And what about the Customer?
"I do not think that a customer is able to define for you what innovation is. He can experience new things from your inventions but when you go to a customer today and say: 'tell me your idea about innovating a car' while the customer would be thinking: 'what is innovation in a car?' You probably would have no answer for that, because he is not able to invent that. He will use it when it is there and pay for it, but he will not be able to give it to you. You need a very specific mindset."
Measuring innovation in the financial services?
"Measuring innovation not really, it is very difficult to do that in the insurance industry, the products we make are so close together, because its not really something with experience, it is a very intangible product. When you look at the technical approach there see coming that innovation is a search. That we have to look for innovation more in a way you communicate to people and that is difficult to measure. Even in some kind of business we feel like we are innovative. "
Have you checked out other methodologies?
"I have checked out TRIZ, I went to see if it was something for the insurance business. There are a lot things, but I have checked it out again, it is not something we can use. It is very industrialized in the way of thinking, bu I could not make a connection with our way of thinking in the business. Total Quality Management, not something that could trigger innovation in the way we think and feel."
Do you think that Six Sigma might be useful to innovation? "There must be something in, it is not very clear in my mind. I think the process in order to listen to the customer, into measure some things will always be an added value to do something. It is quite a straight forward change to have that used, but I do not see yet how we can process people creativity. That is something by nature, it is a little bit uncontrollable, looking at the split discipline which is coming from Six Sigma. You need to get a little bit out of that strictness in Six Sigma and allow some freedom of thinking, I do not see that happen personally. It might be there but from my experience, Six Sigma is rich enough in order to have the connection with that world that is open and must be open plus not controllable in terms of creativity, against a methodology who supposed to be very strict. It looks like a conflict. That might be an expectation in reality."
Swiss Life Belgium is so far one of the very few within the financial services in Europe and the Benelux, who took the step towards implementing Six Sigma within her organization. The management who had a good view about the chances to success of Six Sigma by making executives Black Belt, (Mr. Bertrands who is a Black Belt himself), which is in favor for a topdown implementation. SixSigma.nl wishes Swiss Life Belgium a succesfull rollout of Six Sigma. By specials means, would the author of this article like to thank Johan Bertrands for his time and openness for this interview. Johan Bertrands is nominated for the SixSigma.nl Belt-election for services of 2005 as well.
---
Swiss Life Belgium was een van eerste binnen de financiële dienstverlening in Europa en de Benelux die de stap heeft genomen om Six Sigma te implementeren in haar organisatie. Het management dat zelf een goed beeld gekregen over de succeskansen van Six Sigma door executives Black Belt te maken (zoals de heer Betrands die zelf ook Master Black Belt is), wat een topdown implementatie ten goede komt. Johan Bertrands is inmiddels werkzaam als consultant  en verzorgt vanuit zijn unieke kennis en ervaring  (Master) Black Belt trainingen, management trainingen en coaching voor UPD. This interview was made possible by: Dit interview werd mede mogelijk gemaakt door: