Lean Six Sigma and Agile
How both methodologies work to improve effectiveness and efficiency
In the last decade, we have seen an increasing number of companies embrace Lean, Six Sigma and Agile to improve effectiveness and efficiency. The following diagram is my attempt to link LSS with Smarter ADM – the agile way of working that has been embraced by the IT world.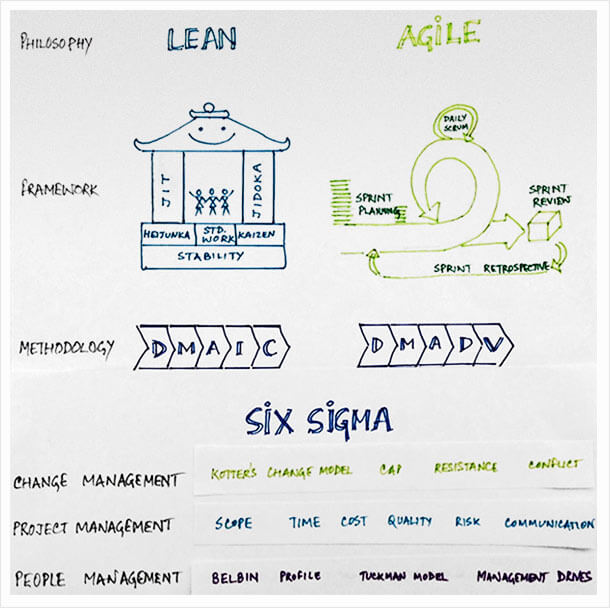 To me there are 3 layers behind Lean Six Sigma – the philosophy, the framework and the methodology. Lean is first and foremost a philosophy. A way of thinking that embraces the five principles of defining value, identifying the value stream, creating flow, responding to pull, and striving for perfection much like Agile values individuals and interactions over processes and tools, working software over comprehensive documentation, Customer collaboration over contract negotiation, responding to change over following a plan.
Lean is thereafter a framework of tools and techniques that bring to life the five principles of Lean, just as Scrum is a framework of roles, events, events and rules that embody the four values of Agile.
DMAIC and DMADV
Finally, we have the structured problem solving (DMAIC) or product development (DMADV) methodologies of Six Sigma that are a lot akin to software development methodologies – from the traditional Waterfall to the newer RAD (rapid application development), DSDM (dynamic systems development method), XP (extreme programming) et al.
A methodology tends to be more procedural and prescriptive than a framework or a philosophy in terms of providing guidance on the WHEN & HOW along with the WHAT & WHY. Therefore, we see that many elements of People Management, Project Management (PMI PMBOK or PRINCE2) and Change Management have also been embraced by the Lean Six Sigma practitioners.
About the Author
Rumela Sengupta has worked as Senior Consultant at UPD. Boasting over more than 15 years of experience she is a certified Master Black Belt and Professional Scrum Master. In the past 15 years she has proven her skills in:
Process Implementation (Smarter ADM, Agile, CMMi, ITIL, ISO)
Process Optimisation (Lean Six Sigma)
Software Quality Assurance Audits
Metrics and Analytics